Humphrey Bogart puts his faith in yet another dame, only to face betrayal and violence in "Dead Reckoning," a 1947 film directed by John Cromwell.  Bogart plays Captain Rip Murdock, who travels to Gulf City to find his paratrooper buddy dead and accused of killing Coral Chandler's husband.  Chandler, played by Lizabeth Scott, formerly worked as a nightclub singer at the casino of the town gangster, played by Morris Carnovsky.  She may have also worked as a prostitute in Detroit.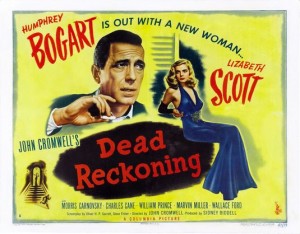 As a typical film noir, Dead Reckoning includes a psychotic henchman, played by Marvin Miller, and cops who stay one step behind the anti-hero Murdock.  Bogart's Murdock gets beaten up and drugged a few times, but hangs around long enough to eventually figure things out.  Lizabeth Scott closely resembles Laurin Bacall, and that helps us understand Bogart's fascination for her.  But she seems bad from the beginning, and I wondered how Bogart's Murdock character kept giving her the benefit of the doubt.
In films that require Bogart to solve a murder, we can't expect a happy ending.  In the ending for this film, a bad thing happens to Coral Chandler, but Lizabeth Scott plays the scene very calmly.  The dialogue wraps up nicely, with a visual that alludes to Murdock's paratrooper duties, but the scene plays with very little emotion.  Murdock displays no feeling at the end.