"Libeled Lady," a 1936 film from MGM, features an all-star cast of Jean Harlow, Merna Loy, William Powell and Spencer Tracy.  The terrific script gives each character rich and comedic dialogue.  The story concerns a newspaper managing editor, played by Tracy, who accidentally prints a false story involving the character played by Merna Loy.  Loy, as the libeled lady, threatens a $5 million lawsuit.  Tracy hires con man Powell to marry his fiancee Harlow, and then set off on a cruise to woo Loy.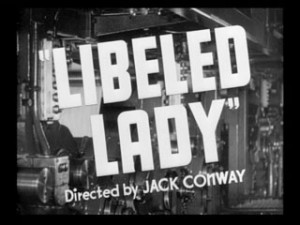 Instead of luring Loy into an easy scandal, Powell falls in love with her and then protects her from Tracy and his prying photographers.  Loy suspects a rat at first but then falls for the charming Powell, and although the marriage with Harlow is a sham, she falls for Powell too.  Along the way, the movie treats the audience to many interesting venues, including a newspaper office, a cruise ship, a hotel suite, a horse farm, and a trout stream.  The personalities and acting styles of the four stars blend so well in this beautifully crafted script that the story flows smoothly after a complicated setup.
Powell and Loy's strong screen chemistry works as well as it usually does, and Harlow convincingly goes from loathing Powell to falling in love with him.  I love the forceful way Harlow delivers her lines, which gives her the power of integrity in every role she plays.  But despite plenty of motivation for finally dumping Tracy, she continually hopes the hard-bitten editor will finally marry her.  We can assume everyone lives happily ever after in this movie, but the filmmakers do not spell that out for us.
One of the principal screenwriters for Libeled Lady, Maurine Dallas Watkins, also wrote the stories for "Chicago" and the screenplay for "I Love You Again," a funny 1940 film that also starred William Powell and Merna Loy.  In that film, Powell also plays a con man who falls for Loy.