"The Circle," a charming silent movie made by MGM in 1925, features Eleanor Boardman as Elizabeth, a woman contemplating running away with her husband's best friend.  Her husband, Arnold, played by Creighton Hale, is a stuffy neat freak and general bore with little passion except for inspecting dust at his estate.  Arnold's mother, Kitty, left his father (Clive) 25 years earlier with Clive's best friend (Hughie).  So, Elizabeth decides to invite Kitty and Hughie to the estate for a reunion.  Her purpose: to find out if love truly lasts.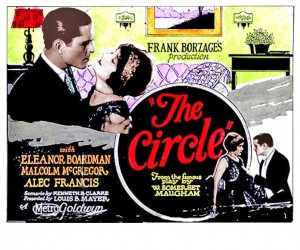 Arnold protests Elizabeth's plan, to no avail, and she expects Clive to be away during the visit.  But, when Clive suddenly shows up, he notices his nervous family.  Elizabeth tells him her plan and he goes along with it.  Kitty and Hughie show up and unapologetically accept Clive's hospitality.  Instead of seeking revenge, Clive seems resigned to his fate.  He clearly does not love Kitty anymore and wishes the couple well.  However, Clive saves his best gambit until the surprise ending, which brings the film to a satisfying conclusion.
The film, an adaption of the Somerset Maugham play of the same name, also features Joan Crawford in a brief scene as the young Kitty.  It is her first credited role as Joan Crawford; she previously went by the name Lucille Le Sueur in a film called "Pretty Ladies" from 1925.  Part of the fun of seeing The Circle now is that Joan Crawford as the young Kitty turns into the boisterous Eugenie Besserer as the old Kitty.  Of course, audiences in 1925 did not expect Crawford to become such as star, whereas Besserer had been in films for years by then.